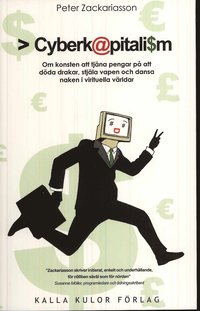 My latest book on the trade with virtual items is now available in stores. The book is in Swedish and is called:
Cyberkapitalism – om konsten att tjäna pengar på att döda drakar, stjäla vapen och dansa naken i virtuella världar. Stockholm: Kalla kulor förlag.
(Eng. translation: Cyber Capitalism – on the art of making money on killing dragons, stealing weapons and dancing naked in virtual worlds)
"Vad har ett episkt svärd från datorspelet World of Warcraft att göra med en sweatshop i den kinesiska staden Tietou? Eller hur kommer det sig att en skollärarinna från södra Tyskland kan bli miljonär på att rita trädgårdar? Cyberkapitalism är namnet på den marknad som uppstått i mötet mellan virtuella världar och vår verkliga värld. Denna marknad har skapat nya möjligheter att tjäna pengar – och en ny våg av guldgrävare som drar ut i den digitala västern."
Se även bloggen om Cyberkapitalism.